Electro-Mechanical Technology
Contact
Mary Kramer
Dean of Career and Technical Education & Pre-College
mkramer@cgcc.edu, (541) 506-6033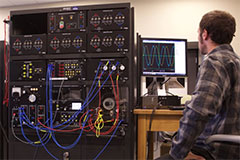 Take a vitural tour of the EM-Tech building.
Columbia Gorge Community College's technician training program has undergone a progression of transformations over the last sixteen years as the college responds to workforce training needs in the region. What started as the Electrical Engineering Technology (EET) program in 2001, evolved into the Renewable Energy Technology (RET) program in 2007 and now to the Electro-Mechanical (EM-Tech) program in 2017.
The Electro-Mechanical Technology (EM-Tech) program offers premier workforce training through a 9-month Certificate and/or a 2-year Associate of Applied Science (AAS) degree. This nationally-recognized program prepares students to work with automated electronic technologies in a variety of industries, including renewable energy, advanced manufacturing, unmanned aircraft systems and engineering.
Students continue to practice tower climbing, working in a confined space, and rescue techniques in the program for jobs in wind energy and other technician jobs that require climbing. The climbing tower on the The Dalles Campus is an essential part of the first-year curriculum.
The Electro-Mechanical field is seeing rapid growth in technology, creating jobs which will require highly skilled workers over the next two decades. Building on a solid foundation in math, our students learn in a rigorous, hands-on environment and are well-prepared to tackle the challenges of technology-focused industries. EM-Tech graduates work for a variety of agencies and companies such as Bonneville Power Administration, Portland General Electric, Cloudcap Technology, Insitu, Cardinal Glass, Intel, Hewlett Packard and many different wind farm companies.
Get started today. Click here to download a flyer about this program. For more information, please contact Mary Kramer.
Find out where you can work with an EM-Tech degree.
Read what EM-Tech graduates are saying about the program.
Learn about financial assistance for EM-Tech students.
Classes
| Course | Name | Credits |
| --- | --- | --- |
| EET 111 | Electrical Circuit Analysis 1 | 5 |
| EET 112 | Electrical Circuit Analysis 2 | 5 |
| EET 113 | Electrical Circuit Analysis 3 | 5 |
| EET 141 | Motor Control | 5 |
| EET 180 | Industrial Computing | 3 |
| EET 219 | Programmable Logic Controllers | 3 |
| EET 221 | Semiconductor Devices and Circuits 1 | 5 |
| EET 222 | Operational Amplifier Circuits | 5 |
| EET 231 | Semiconductor Devices and Circuits 2 | 5 |
| EET 242 | Microcontroller Systems | 5 |
| EET 251 | Digital Electronics 1: Programmable Logic Devices | 5 |
| EET 252 | Digital Electronics 2: Programmable Logic Devices | 5 |
| EET 273 | Electronic Control Systems | 3 |
| MEC 120 | Hydraulics and Pneumatics | 5 |
| MEC 123 | Industrial Mechanical Systems | 5 |
| MEC 124 | Mechatronic Systems in Advanced Manufacturing | 3 |
| RET 223 | Power Generation | 5 |
| SAF 188 | Industrial Safety and OSHA 10 | 1 |
| | Name | Title | Email | Phone |
| --- | --- | --- | --- | --- |
| | Mike Davis | UAS Instructor, Business & Entrepreneurship Instructor | mdavis@cgcc.edu | |
| | Tom Lieurance | Electro-Mechanical Technology Instructor | tlieurance@cgcc.edu | (541) 506-6175 |
| | Jim Pytel | Electro-Mechanical Technology Instructor, CTE Department Co-Chair | jpytel@cgcc.edu | (541) 506-6000 |
| | Chris Spengler | Electro-Mechanical Technology Instructor | cspengler@cgcc.edu | (541) 506-6181 |